It's taken me years to finally practice what I preach and make a habit of batch cooking on the weekends.  Some weekends I do more than others but one really easy thing that dramatically decreases the incidence of the stressful, harried weekday morning is prepping "quiche muffins" for the week.  I do it while I cook our Sunday morning breakfast and by the time we have eaten and cleared the table we are set for the week – amazing!
I originally got the idea from Michelle Tam of nom nom paleo and modified her recipe to reduce it down to 4 easy ingredients (eggs, bacon, cheese, green onion).  There are numerous other recipes out there to get inspiration from as well (here and here and here and here).  You can add any number of ingredients based on what happens to be in your fridge or your food sensitivities (although you can't take out the eggs!).
With help from my kids (5 and 7 yrs old) I follow these steps:
Cook bacon

Line muffin tins

I give my kids two muffin tins and have them fill the tins with parchment paper liners

Prep green onions and eggs

While I am cooking breakfast I slice up green onions and beat eggs (8-18 depending on how many muffins I am planning to make or have ingredients for)

Fill muffin tins

When we finish breakfast I put the parchment paper lined muffin tins in front of my kids and give them the chopped green onions to distribute evenly throughout the tins 

While they are doing that I chop the bacon and then give it to them to distribute

And then we evenly distribute pre-shredded organic cheese

Lastly I grab my big bowl of beaten eggs and use a ¼ cup measuring cup to fill each muffin about ¾ full

Alternatively, you can add all the ingredients to the eggs and just ladle them out but we prefer to make sure everything is evenly distributed

Bake at 400 for 15-20 minutes

For our mini muffin tin it takes about 15 minutes and the regular sized muffin tin takes about 20.  I wait for the muffins to puff up and get slightly browned.  When you remove them they will unpuff as they cool.  I put them in a glass tupperware to store in the fridge for the week and they can be warmed in the microwave or eaten cold.  Delicious both ways!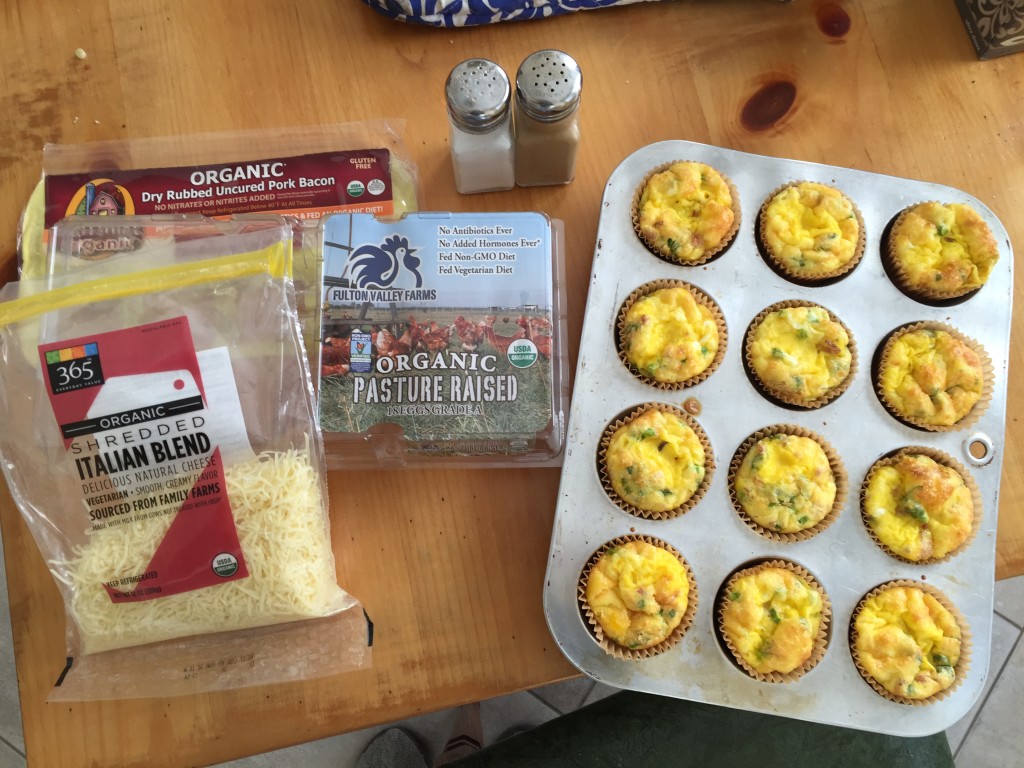 I love getting my kids involved in cooking and they take pride and ownership in the finished product.  My 7 year old is reaching a point where she enjoys experimenting with different spices and tasting the differences.  It's adorable to see her eyes light up when she makes something she really likes!
The best part about prepping breakfast for the week is my mornings feel much more manageable.  Before adopting these types of strategies I used to drop off my kids at school and feel like I had already used up all my energy reserves for the day and it wasn't even 9am!  
In addition to prepping egg muffins for the week we do 3 other things that make the mornings much smoother:
We make the kids lunches before we go to bed at night

We have our kids lay out their clothes for the next day at bedtime (including shoes, sweaters and jackets – it's amazing how challenging it is for kids to find their shoes and jackets in the morning : ))

When we wake in the morning the kids get dressed, put their lunches and water bottles in their backpacks and put their shoes on BEFORE we sit down to eat (this seems inconsequential but it makes a huge difference!)
Enjoy!!