Relish the end of summer!
Here is the first of 2 installments of simple recipes to help prolong the delicious, light flavors of summer despite autumn's quick approach. Enjoy!
Gazpacho
Gazpach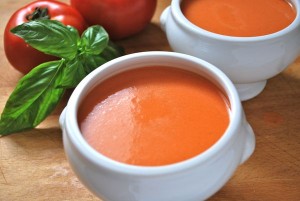 o is a raw soup that is served cold. It whips up in the blender or VitaMix in no time at all and keeps really well in the refrigerator for up to 5 days. If you do make ahead, be sure to shake vigorously before serving. Personally, I make a large batch, ladle it into pint mason jars and store in the fridge until it's time to enjoy. This makes shaking before eating very easy and facilitates a quick addition to any meal – breakfast, lunch or dinner.
Place the following in your blender of VitaMix and blend for 1-2 minutes in order to emulsify the oil:
½ cup good quality organic extra-virgin olive oil
1-3 teaspoons balsamic or port vinegar
dash-1 teaspoon chili powder or sweet smoked paprika
1-2 teaspoons finely ground unrefined sea salt
Turn off the blender and add in the following. If you are using a VitaMix, you can add these in basically whole. If using a blender, you will need to chop relatively finely.
4-6 cloves fresh garlic (more if you'd like!)
¼ cup fresh lime juice (ok to omit or use lemon juice)
½ red onion
½ peeled cucumber
1 seeded red bell pepper
¼ cup basil leaves
5-10 tomatoes of your choice. (I use an array of cherry, different heirloom and Early Girl tomatoes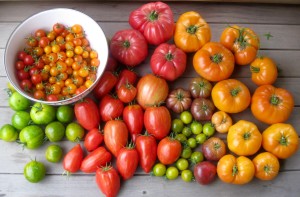 Blend these together until they reach your desired consistency. I love a very smooth gazpacho so I let them go for awhile. At this point, you'll want to adjust your spices, adding in more salt, some pepper and potentially more vinegar, lime/lemon juice as well. If the mixture is too thick, consider adding a little water to thin it out.
For flavor variations, try adding in shallot, smoked sea salt, using green or yellow bell pepper, substituting parsley for the basil and/or adjusting the quantity of cucumber.